At Trillium we are passionate about serving our community. We believe in investing in programs and services that help people be healthy and happy.
From participating in community events and celebrations, sponsoring local programs, and our own Employee Charitable Giving Team, we are proud members of this community.
Live Healthy Lane is a community-based effort to improve the health and well-being of those who live, learn, work, and play in the Lane County Region. Trillium, along with numerous cross-sector community partners are working together to improve the health of the community. This collaborative effort consists of the Community Health Needs Assessment (CHNA) and Community Health Improvement Plan (CHIP). Reducing health disparities, promoting health equity and improving overall population health is the central purpose of this work.
2016-2019 Goals:
1. Increase economic and social opportunities that promote healthy behaviors.
2. Increase healthy behaviors to improve health and well-being.
Walk to End Alzheimer's: Portland, Oregon 2019
Health Net of Oregon was proud to sponsor the 2019 Walk to End Alzheimer's in Portland on Saturday, August 24. Walking teams raised awareness and funds for Alzheimer's care, support, and research.
Affair of the Heart 2018
On February 8, Trillium was the presenting sponsor of the Affair of the Heart luncheon, that included a keynote address by UO alumnus and Olympic bronze medal winner, Brianne Thiessen Eaton. Brianne's healthy lifestyle message was inspiring and aligns perfectly with Trillium's obesity prevention efforts. Later that afternoon, Trillium provided free chair massages and health information at the Affair of the Heart Health and Wellness Expo.
No One Eats Alone Day 2018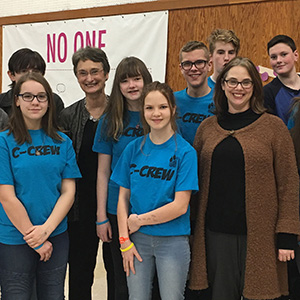 A positive prevention initiative designed to promote inclusion in middle schools was celebrated at Cascade and Meadow View Middle Schools in Eugene, on Feb. 9, 2018. More than 200 6th graders participated in activities designed to teach about social isolation and the impact it can have on a student's health and academic performance.
During lunch, students were assigned seats to connect them with classmates outside their normal circle of friends. They were given ice breaker topics for discussion that helped find their commonalities and form bonds.
At Cascade Middle School Trillium hosted an assembly following the lunchtime activities and invited students to reflect on what they learned. Afterward, the students signed pledges on a large banner that now hangs in the school as a positive reminder of their commitment to be inclusive.
Social isolation has been identified as a precursor to bullying, self-harm and community violence. Students have shown that given the tools, they will stand up for others as empathetic and caring activists, not passive bystanders.
Cascade and Meadow View Middle Schools were two of more than 2,000 schools across the country that celebrated No One Eats Alone Day, reaching more than 1 million students. Centene Charitable Foundation was a national sponsor.
Oregon Ducks Basketball Hand-off 2018
Cascade Middle School 6th grader, Wyatt Hurlimann, handed off the game ball at the men's basketball game on Sunday, February 11.
Wyatt was accompanied on the court by Dr. Tom Wuest, Trillium Chief Medical Officer. Wyatt and his Dad received complimentary tickets to the game following the hand off. Wyatt said he had a great day. His smile says it all!
Sunday Streets - River Road 2017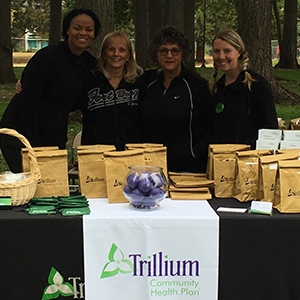 Trillium was excited to participate at this year's Eugene Sunday Streets Event Sunday September 17th, 2017 at Emerald Park. Over 4,000 people were out for this event.
Click to learn more about the 2017 Sunday Streets Event in Eugene!
Sunday Streets - Downtown 2017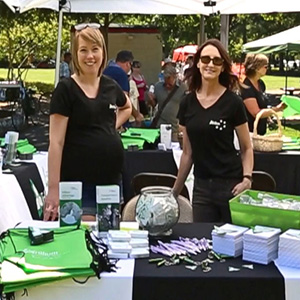 Trillium was pleased to be a part of Eugene's Sunday Streets in 2017. This free, fun event is all about being active and getting to know your community. Click to learn more about Sunday Streets in Eugene!
Ducks Basketball 2017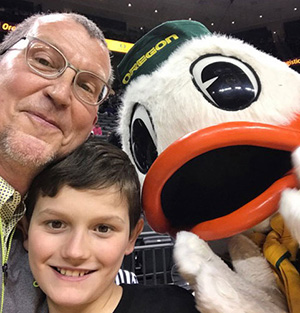 This athletic event featured our member, 9 yr. old Julion, who was the guest of honor at the U of O men's basketball game against Utah. Julion was accompanied by Dr. Thomas K. Wuest, Trillium's Chief Medical Officer, as he received the game ball from Puddles the Duck and presented it to the game officials. Go Ducks!
Lane County Fair 2016

Trillium was present with information and giveaways at the Senior Celebration where all took part in cake, ice cream and entertainment.
Triple P: Positive Parenting Program
This collaborative program brings together Trillium, Lane County Public Health, LaneKids, Parenting Now!, Oregon Research Institute and United Way of Lane County to provide parenting support and education to families throughout Lane County. Triple P combines an online parenting education course, community wide information and updates, and in person parenting interventions at select primary care clinics. The goal of Triple P is to provide parents with the skills and resources they need to raise happy, healthy children. Click to find out more about the Triple P, or to sign up for Triple P Online.
Double Up Food Bucks 2017
Eating well is a big part of staying healthy, and we want to make sure everyone has access to fresh fruit and vegetables. Trillium is a proud sponsor of the Double Up Food Bucks program for the second year in a row. Starting May 2nd the Lane County Farmers Market will distribute Double Up Food Bucks to shoppers using their Supplemental Nutrition Assistance Program (SNAP) benefits. For every $2 you spend, you will receive a matched $2, up to $10 matched each market day. That means if you spend $10, you'll really get $20 worth of fruit, vegetables, mushrooms, beans, herbs, nuts and vegetable starts. Click for more information and participating markets. Happy shopping!
Project Plunge 2017
We want kids to have fun and be active, especialliy during the long, hot summer months. Thats why Trillium, in partnership with Lane County and the City of Eugene, is offering a limited number of reduced price swim passes for Eugene City pools this summer. Passes are $5 and are good for 10 trips to the pool. Any Trillium member, 17 and under, is eligible for a pass. For more information or to purchase a pass, contact any one of the Eugene City Pools, listed below.
Live Healthy Lane
Live Healthy Lane is a community coalition with the vision of creating a community where all can live a healthy life. Trillium, Lane County, the 100% Health Community Coalition, and United Way of Lane County work with many other individuals and community partners to reduce health disparities, promote health equity and improve overall population health. Click to learn more about Live Healthy Lane, or see the Community Health Improvement Plan (CHIP) below.
Trillium Employee Charitable Giving Team
Our employees are dedicated to providing the best service to our members, and our community. That generous spirit doesnt stop with their day-to-day duties at work. Trillium established the Employee Charitable Giving Team (ECGT) to represent the philanthropic desires of our employees.
Each year, employees nominate and vote for a non-profit organization to be our Star Charity for the year. The organizations all focus their efforts on improving the health, safety, and quality of life for members of our community. The ECGT then conducts various fundraisers, raffles, bake sales and similar events, to provide funding and resources to the Star Charity.
2017 Star Charity- The Eugene Mission
Founded in 1950, the Mission is an invaluable resource to our community. The Mission serves thousands of men, women and children annually, provides over 700 meals each day and 400 safe beds every night. They provide a wide variety of services for homeless members of our community including shelter, food, clothing and toiletries, laundry, showers, and household goods and furnishings. Additionally, the Mission offers various social services including case management, addiction recovery and more. For more information about the Eugene Mission visit their website at eugenemission.org.
Past Star Charities include: