News
Trillium Staff Profile: Dori Sumstad
Date: 04/10/23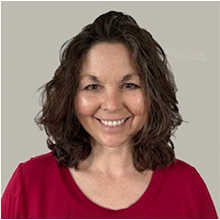 "This is what I was made to do," said Dori Sumstad, Trillium's Traditional Health Worker (THW) Liaison for the Tri-County area. "My passion is access to care and serving as an advocate who connects people with the healthcare services they need. That could be anything from preventive care to addressing the social determinants of health to support with addiction or behavioral health concerns."
Traditional Health Workers are frontline public health workers who have similar lived experiences as the people they serve. Trillium covers member access to five worker types of THWs: community health workers, doulas, peer support specialists, peer wellness specialists, and personal health navigators.
Dori sees herself as a bridge connecting our members, providers and community partners with THW services. "Traditional health workers play a key role in helping to close health equity gaps in Oregon," Dori explained. "Part of my role as Trillium's THW Liaison is to focus on implementing new initiatives from the Oregon Health Authority (OHA) related to THWs, as well as supporting THWs with their questions regarding the certification and recertification process."
Dori also serves as a resource for providers on how to integrate THWs into their workforce, which can support efforts to offer culturally responsive care.
"Doctors and Traditional Health Workers working together on behalf of our members can result in really positive health outcomes," said Dori. "The doctor can connect with the member on a medical level, while the TWH, drawing on their lived experience, can connect with the member on a personal level. That lived experience aspect is really key in building trust and developing an ongoing relationship that helps advance a member's health goals."
Dori believes that all of her previous professional and lived experience brought her to this role at Trillium. Born and raised in rural Alaska, Dori is an Alaska Native whose father was a bush pilot. "My father owned a charter service and I started working there in customer service when I was a teenager," Dori recalled. "I love service work. I have a service mindset and I want to be where I can help someone."
Dori, who has four children, spent many years living in Central Oregon and moved to the Portland metro area about five years ago. Prior to joining Trillium, Dori served in various roles at Coordinated Care Organizations (CCOs). She acquired a strong background in Measure 110, as well as support and outreach related to addiction and behavioral health services. She has also worked for the Oregon Employment Department.
"I draw on all of my previous professional and lived experiences when I assist our members," Dori said. "There are so many community resources we can connect people with to remove barriers to care. And if I don't know something, I'm going to search until I find an answer."
Dori became a passionate advocate for access to care while supporting friends, family and coworkers as they faced challenges related to addiction or mental and behavioral health issues.
"I was helping friends who had young adult children on the Oregon Health Plan, and people from the tribe, and it was so discouraging because depending on what region you lived in, often you could not access care. There were just no services available," she explained. "When someone is ready to seek treatment for addiction or behavioral health, there can be a small window of opportunity to connect them with care because the next day, that person may decide they don't want help. That's why having access to care in your own community is essential, and I'm excited to play a role in ensuring our members can get that care."
Dori will be devoting lots of her time to community engagement efforts and you can expect to see her at health fairs and other events where Trillium has a table. And she's ready to take questions and connect people to resources.
"People who work at CCOs can speak on behalf of those who may not be in a place where they can advocate for themselves to access the healthcare services they need. And that's why I'm here," said Dori.
If you're interested in becoming a Traditional Health Worker or if you would like support related to THW certification, recertification, or integrating THWs into your workforce, please contact Dori Sumstad for more information.